How We Work
The Art of Finding Golf
Brilliant golf course design ideas are wonderful, but they aren't much use unless one is willing to put in the time and effort to see them built correctly. We pride ourselves on making that effort. Every associate in the firm, including Tom Doak, spends up to 150-200 days per year on the road. Most of those days we are out in the dirt, working with the construction crew, fitting our course designs into the terrain.
Because every golf course design project is unique, we first must get to know our clients and their objectives. It is essential that we gain the client's confidence and trust so we are free to do our best work. As we get a sense of their goals, we may suggest they visit a couple of courses with qualities similar to what we envision for their site [whether it's one of ours, or another designer's], so we can get a better understanding of the client's preferences and so they can begin to understand our vision for their land.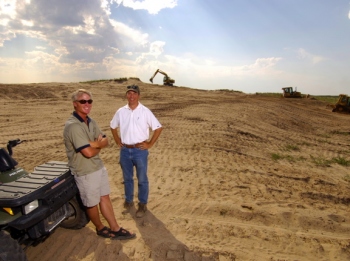 Most of the work of routing a golf course is done from topographic maps in the office, with follow-up visits to the site to ensure we're making the most of the natural vegetation, vistas and any other unique features that may not show up on a map. Sometimes we'll produce up to a dozen preliminary routings to walk in the field, soliciting feedback from the client before we settle on a final solution. Other times we may have the better part of a complete routing in place before we set foot on the property.
In either case, and in every one in between, we won't commit to a routing until we are certain we have found the best use of the property. Once the routing is finalized, we can usually produce a complete set of plans and specifications for bidding the job in sixty days' time, allowing us to estimate costs accurately. We stop short of producing detailed plans for bunkers and greens, however. These are sculptural problems better decided on site as the features are shaped.
In fact, when our schedules permit, we prefer to do the shaping work ourselves, as we have done for many of our courses including Pacific Dunes, Cape Kidnappers and Ballyneal. On each new project, our Lead Associate is typically on-site more than 100 days from ground-breaking to final seeding, supervising the progress and quality of construction, making sure that the natural features of the site are preserved, guiding the shaping of golf features – often shaping them himself – and all the while communicating with Tom Doak on-site and over the phone to get every last detail right. When not too busy running other projects, the remaining associates get involved in shaping and/or finish work as well. Typically, every associate will make at least one, if not several, visits to any given project before it is completed. This regular presence on site helps the construction processes run more smoothly and efficiently because we don't leave contractors waiting for answers.
The first few weeks of construction can be the most creative part of the process and this is when Tom Doak spends the most time on-site establishing the individual character of the golf course. Once the job is up and running, Doak will visit every three to six weeks depending on the pace of the project. Each trip lasts 3-5 days, allowing him plenty of time to be creative and consider his decisions. During a typical site visit, he will refine and approve 3-4 holes, discuss his ideas for the next 3-4 holes to be shaped and continue clarifying an overall vision for the project. Since every golf hole has dozens of little problems to solve; from playing strategies, to the composition of elements, to making the clearing lines and drainage work seamlessly with the golf, our lead associate and shapers devote thousands of man-hours to these details. This means when Tom makes his site visits, there's not much that needs fixing, and he can concentrate on the little subtleties that make our courses special.
Our work is a group effort and it is this spirit of collaboration that makes our company unique. We devote more talent to each job than any other firm and we constantly push each other to get better. No firm is more dedicated to its work.
Just ask any of our clients.

See also Where We Work