Alternative Courses
July 2019
ALTERNATIVE COURSES
One of the things I learned in Scotland is that great golf comes in all shapes and sizes. They don't care if a course is eighteen holes or nine or even twelve, and whether it's 7000 yards long or 5000 … they just care if it's good golf. One of my career goals has been to bring that way of thinking back to America. While everyone in the industry complains that participation is falling, and that it takes too long to play, they just keep building the same 7000-yard mistakes because the marketing guys made them do it.
From the beginning, I've tried to push back against convention -- for example, none of my highest-ranked courses are 7000 yards long, and I think I've only built five par-72 courses out of 36 so far. But in recent years, we've had several chances to go further from the norm, and several of these projects are among our very best work:
THE LOOP AT FOREST DUNES is the only full-length, completely reversible course in the world. The Black course plays clockwise and the Red counterclockwise over the same fairways and greens, with the direction reversed each day so that overnight visitors can compare and contrast the two. The goal was to get visitors to stay over at the resort instead of moving on to other local courses, and the concept has generated worldwide interest and publicity. The two courses are more different than anyone imagined -- even though you are playing to the same greens, the background for each approach is so different that you don't recognize the green you played yesterday.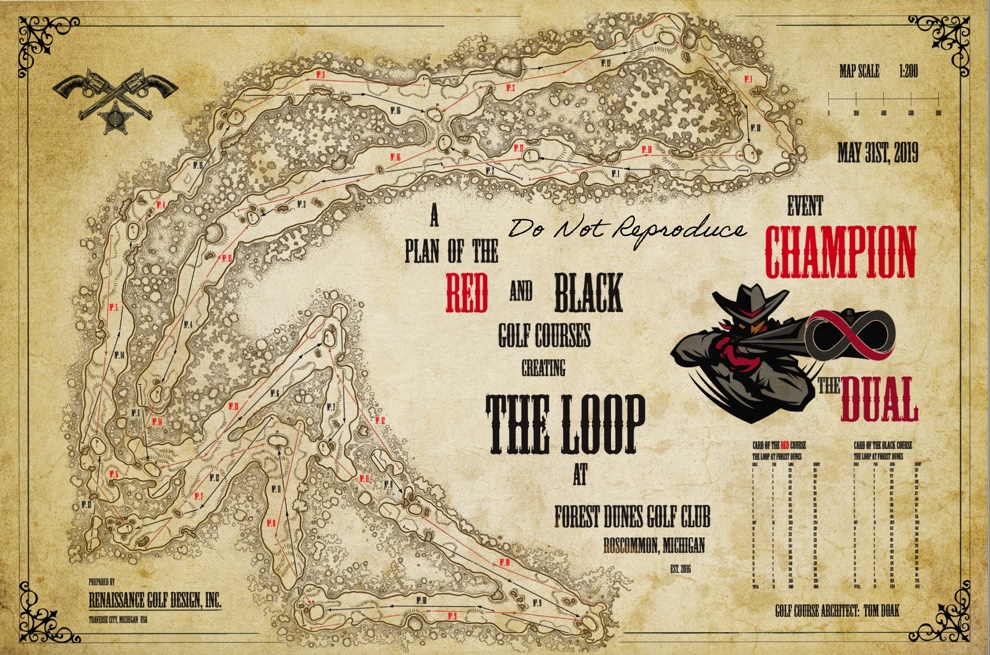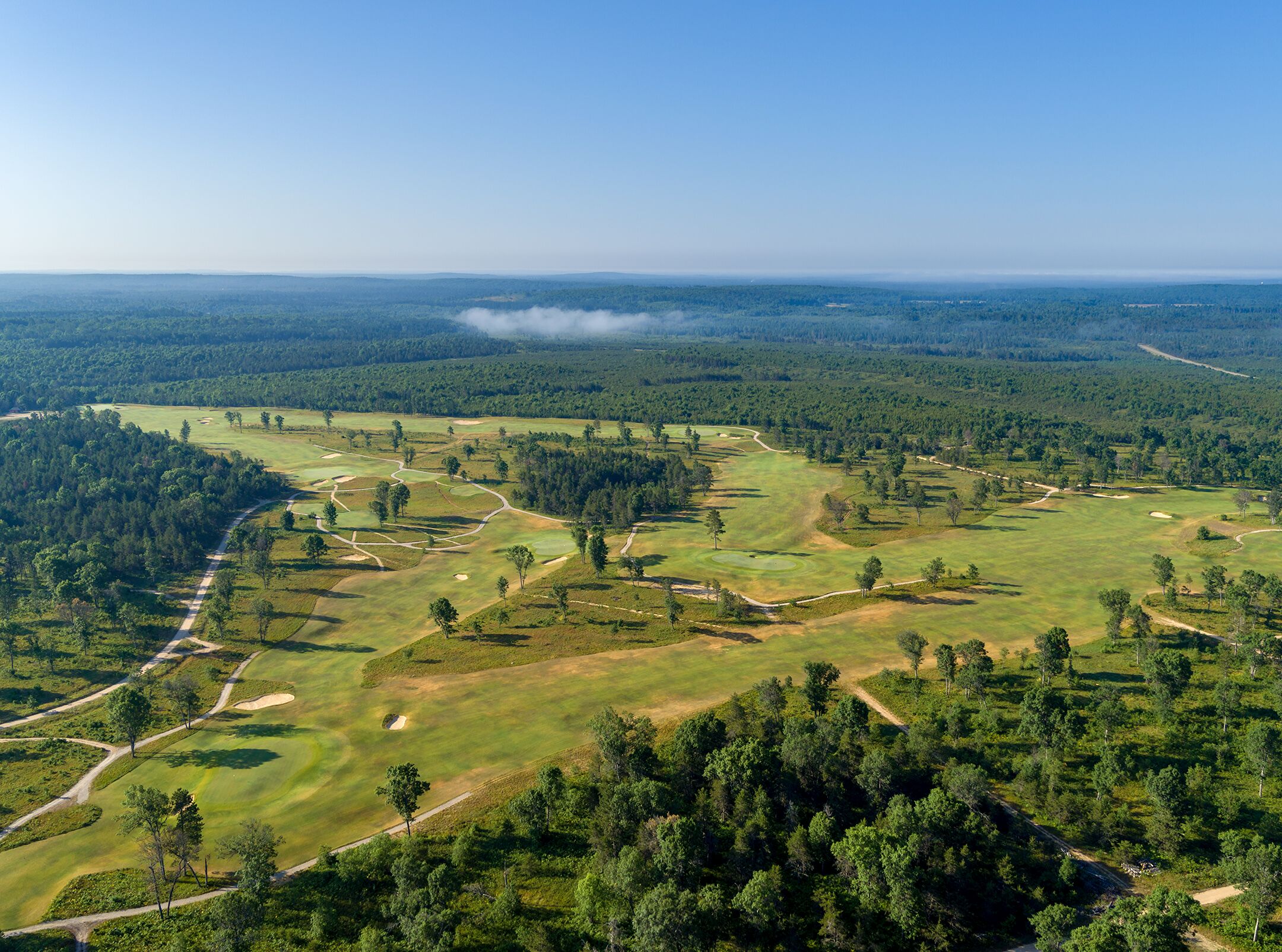 1st Hole Black / 18th Hole Red from Yardage Book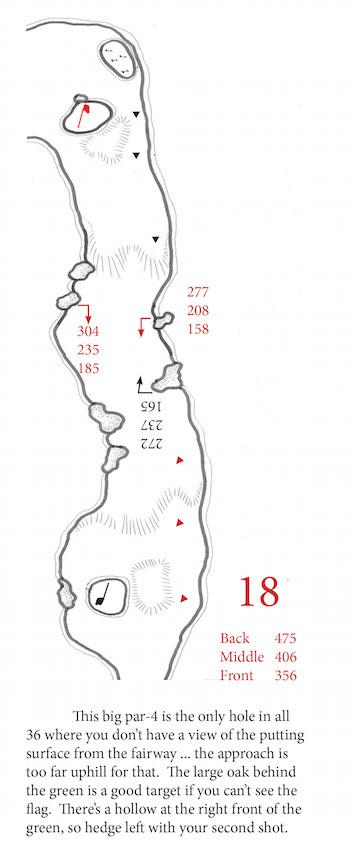 .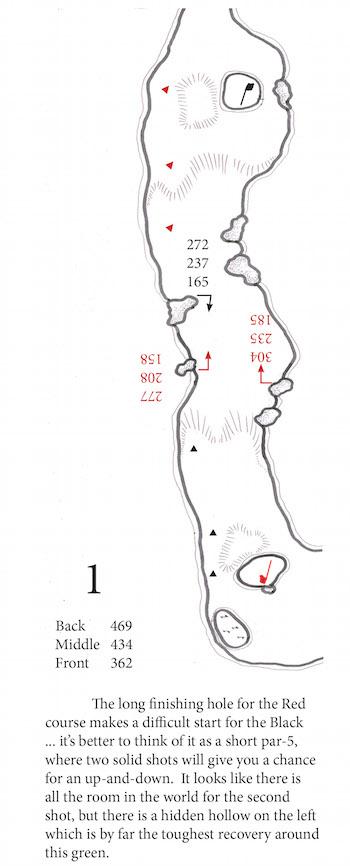 AETNA SPRINGS, in the Napa region of California, was a stand-alone nine-hole course built on a very small piece of ground dotted with native oaks. The par-5 eighth hole, with its landing area in the loop of a small creek and a 2500-square-foot green, and the 300-yard finisher with bunkers along the left for the last fifty yards, were good examples of the type of hole that you might not build on a "full scale" course, but that had more character than most bigger courses do.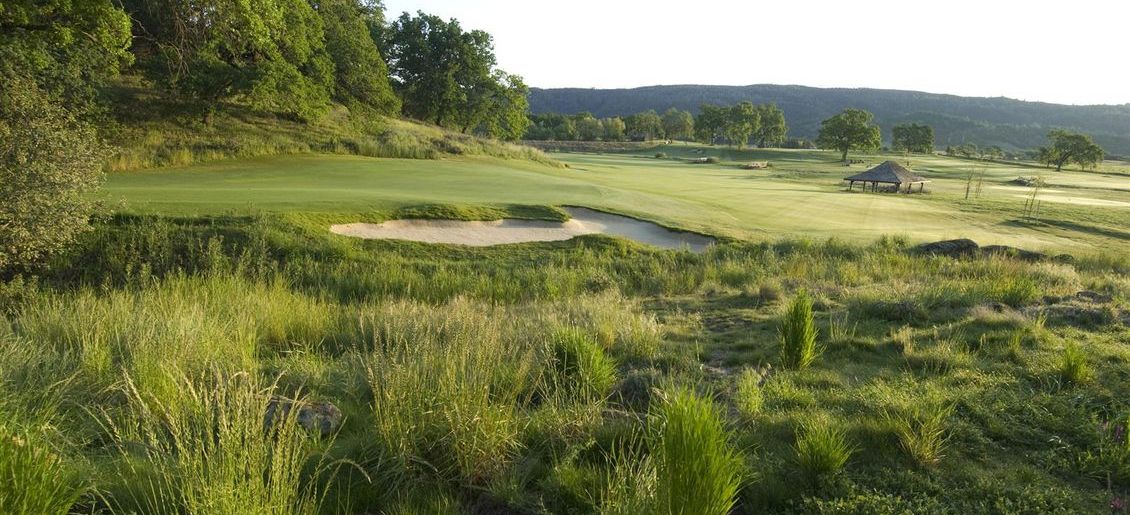 .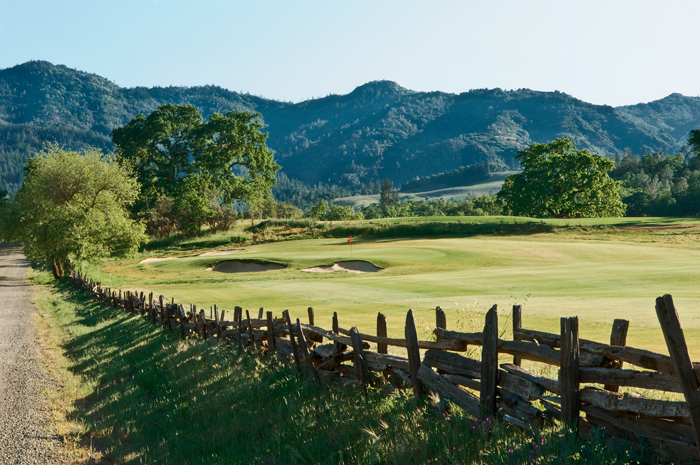 THE MULLIGAN at BALLYNEAL, a 12-hole par-three course for a private club, was conceived as the best way to make use of the club's remaining water rights. Ballyneal is a destination club, and some members and visitors needed a less taxing alternative than walking another full 18 holes to round out their day. So, we took some of the dunes that we had originally passed over as being too severe for full-size golf holes, and routed a series of shorter holes, taking the liberty to build a few wild, natural greens that no one would let us build on a regulation 18. I've always said that the main course at Ballyneal might be the most fun course we have ever built, but the Mulligan has surpassed it - it's a riot to play with friends and family, and it's at a small enough scale that golfers of all abilities can get have fun out there.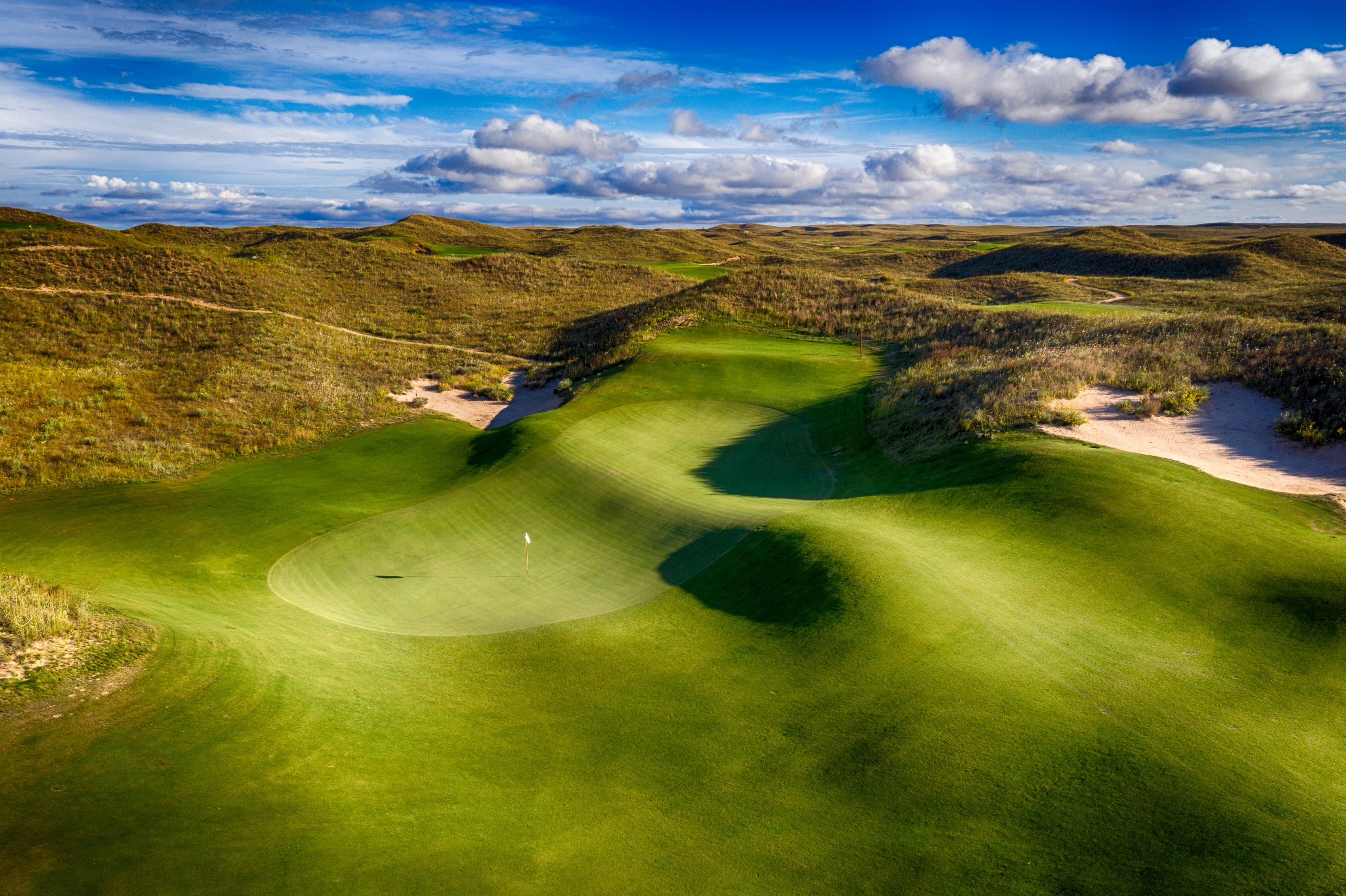 .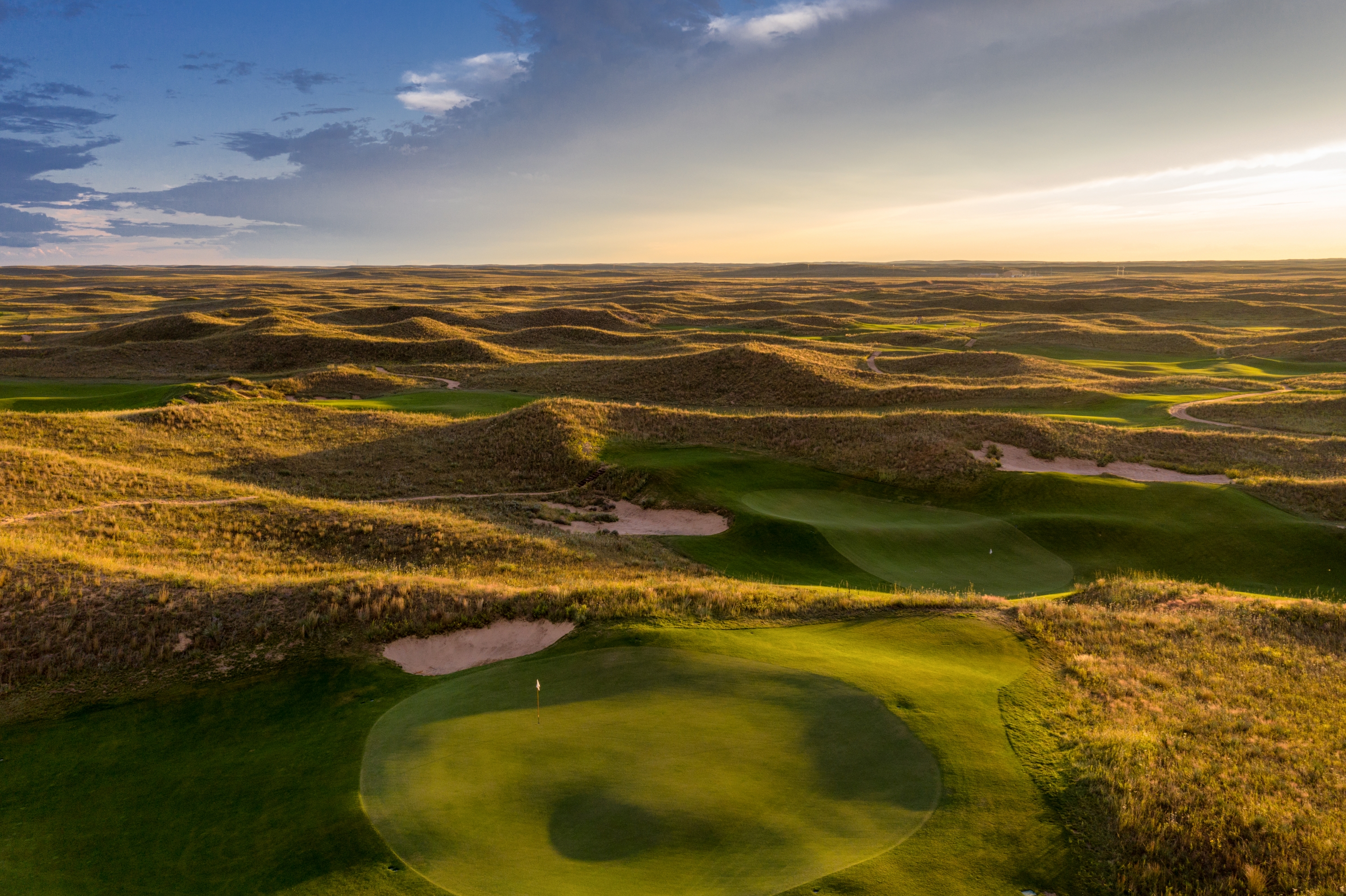 . PHOTOS: Channing Benjamin @channingbenjaminphotography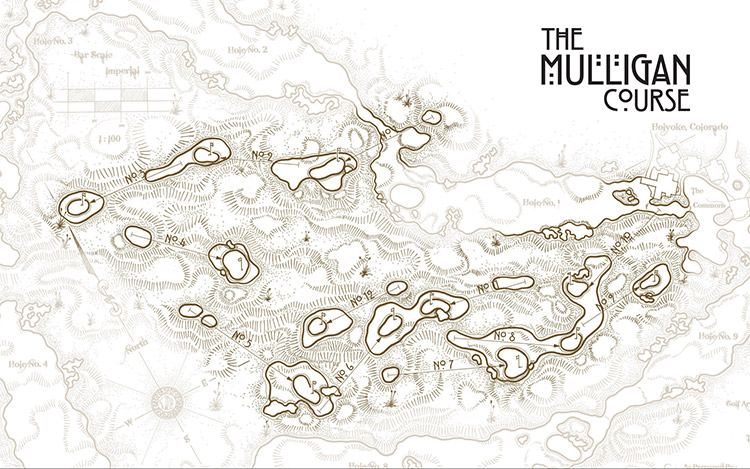 Drawing by Don Placek
THE PUNCHBOWL at BANDON DUNES is a huge (over 100,000 sq ft.) putting course at the back of the clubhouse for Pacific Dunes, and an homage to the Ladies' Putting Course at St. Andrews, where Tom spent a lot of time during his summer in St. Andrews. In fact, Tom designed a similar green alongside his debut course at High Pointe, but there weren't enough golfers hanging around in the evenings to make it pay for itself. At a large resort like Bandon, though, it's a gathering place for relaxed or competitive putting competitions in the late afternoon and evening, a version of miniature golf without curbs to keep you in play!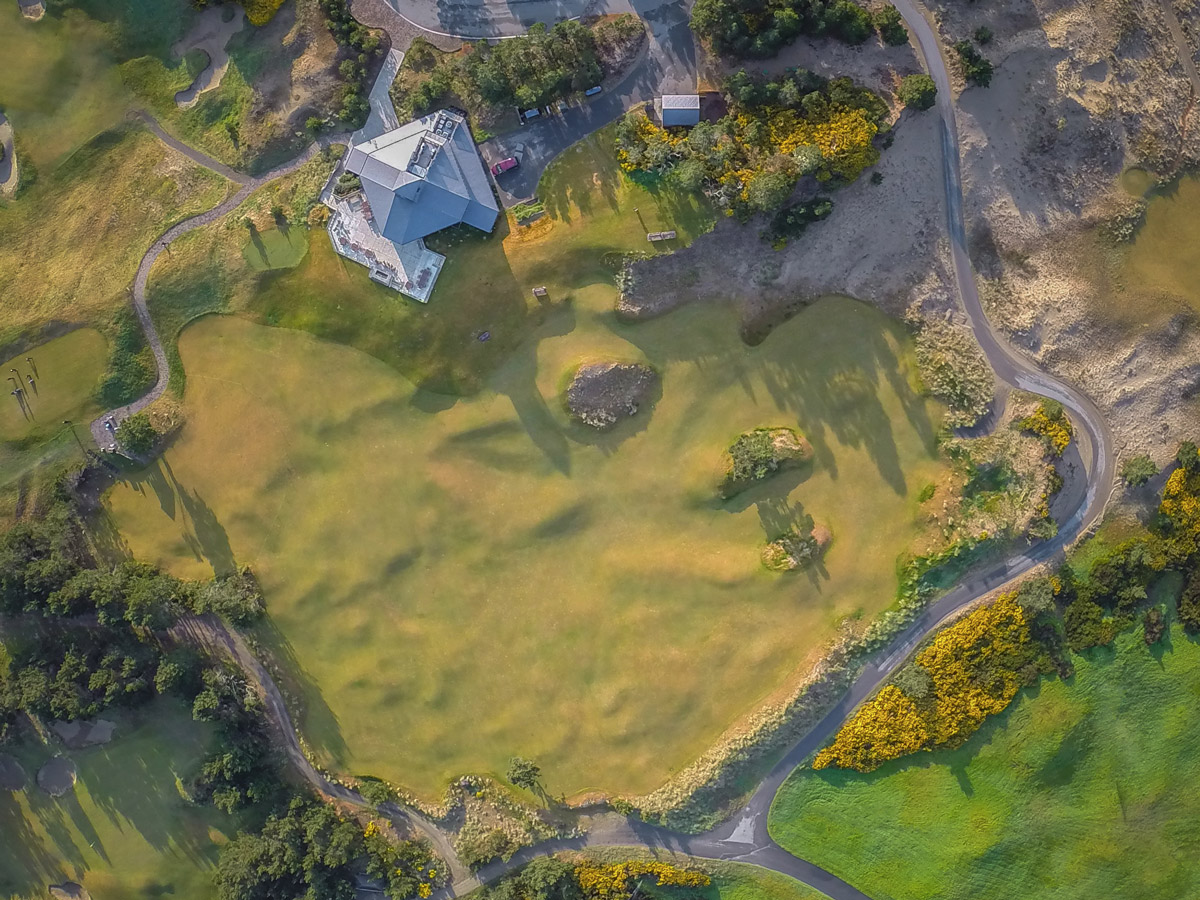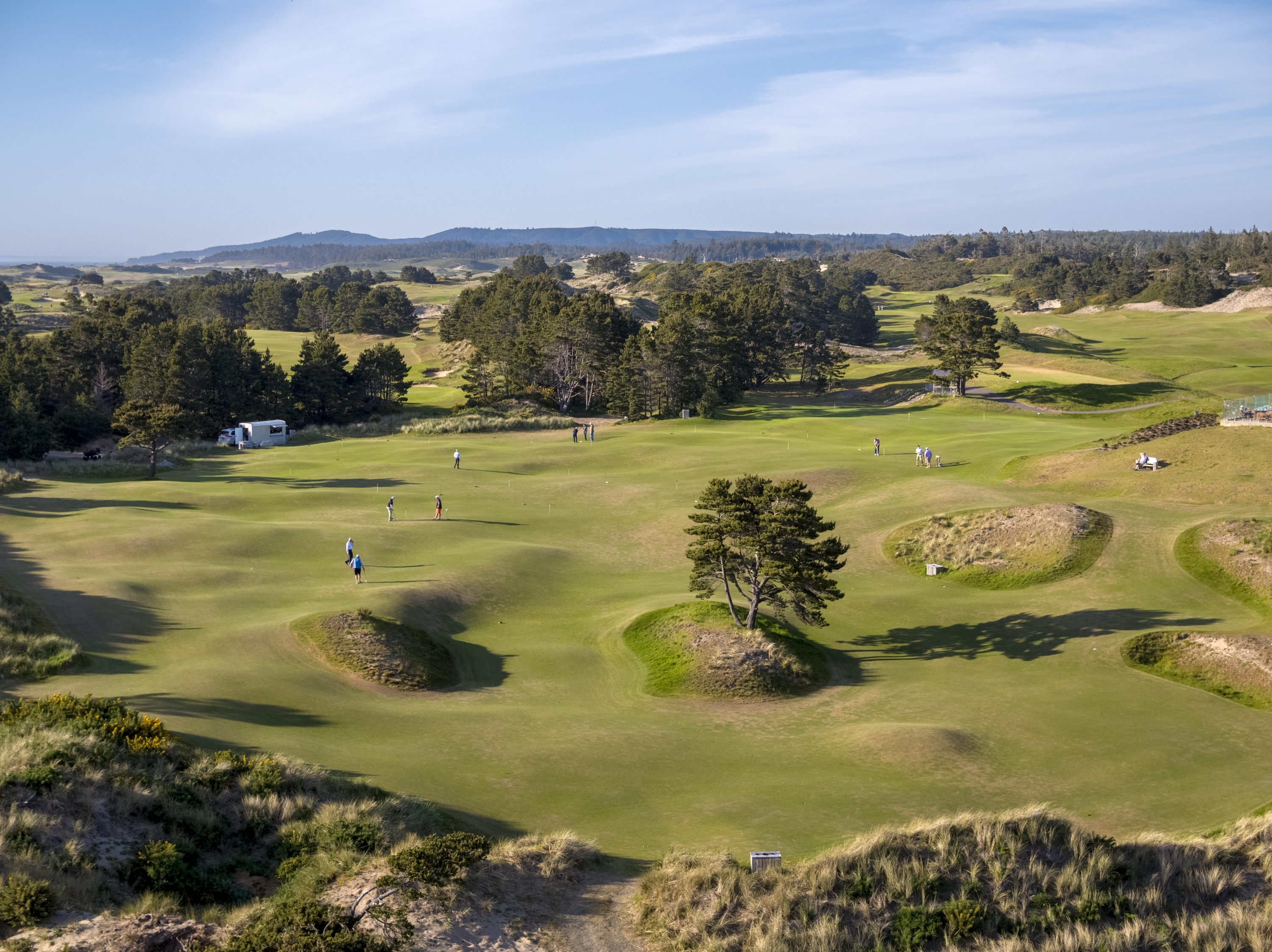 THE SHEEP RANCH was possibly the most free-form golf course ever, occupying 100 acres just north of Bandon Dunes Resort. The concept was to create a place for members to play a few holes before or after their rounds at the resort, making up their own course on the fly. Each of the thirteen greens was designed to be approached from multiple angles, so that players can choose to go from one green to any other, or backwards and forwards along the coast. An old fire truck took the place of an irrigation system during summer heat. The course is soon to be replaced by a full 18 holes for the resort, but many who played our version counted it among their most special experiences in golf. Five Mile Point in the foreground, the rest of Bandon Dunes resort in the distance to the South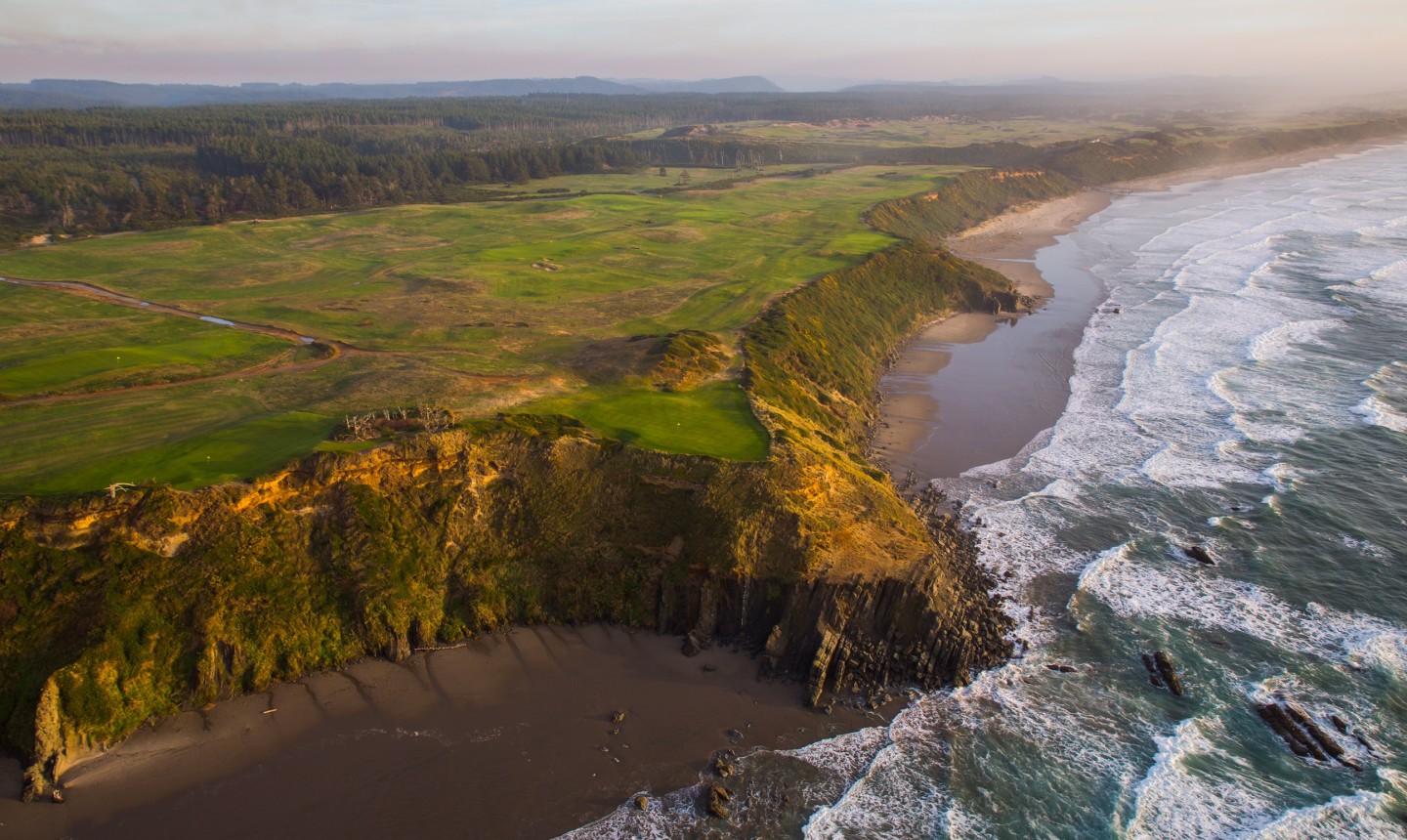 .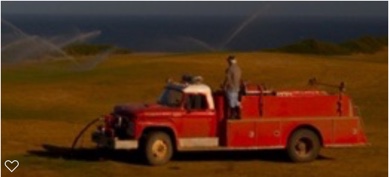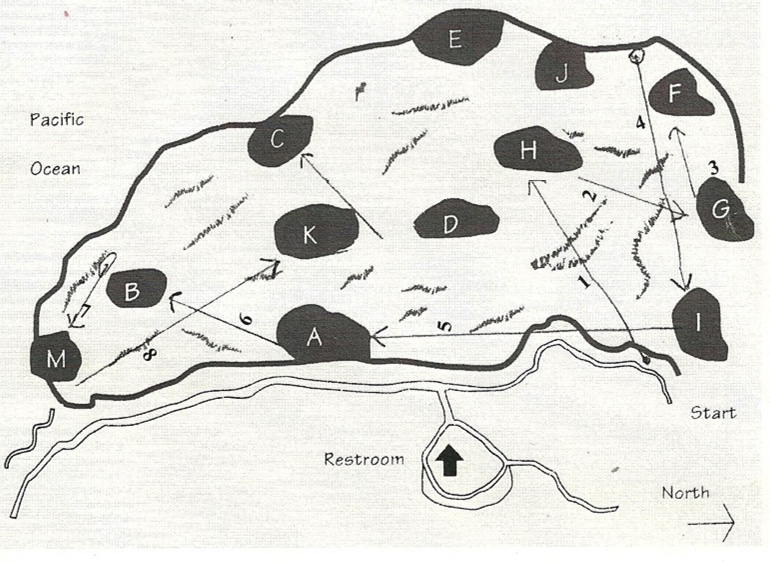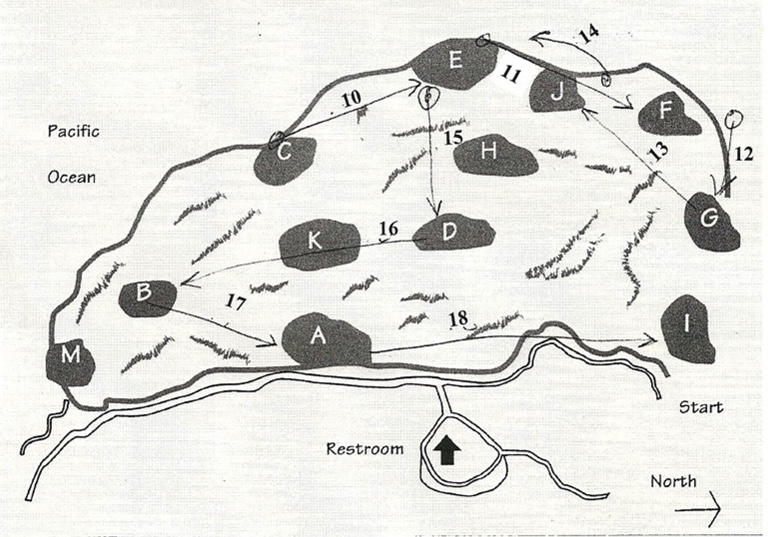 MIDNIGHT GOLF PRACTICE FACILITY - We donated our services to design and build this small practice facility and par-3 course on the campus of Marygrove College, to give Detroit's Midnight Golf Program a real home. The program was founded in 2001 by Reneé Fluker, a social worker and single mother who noticed the impact golf had on her son's life—a student golfer who encouraged her to find a way to provide other young people with the opportunity to experience the game he loved and the doors he believed it had opened for him. It started as an offshoot of the safe streets initiative called Midnight Basketball. Over time, it has come to have another meaning. Midnight Golf Website
CHILDREN'S COURSE AT COMMONGROUND - Built for free with the excess materials from our redesign project at CommonGround, the nine-hole Children's Course is a par-3 course reserved for local kids and their parents, operated by the Colorado Golf Association. It has become the centerpiece for community outreach programs, golf training as part of elementary-school gym classes, and the Solich Caddie and Leadership Foundation, which subsidizes caddie jobs for local kids so that they can become eligible for the Eisenhower-Evans Scholarships Program.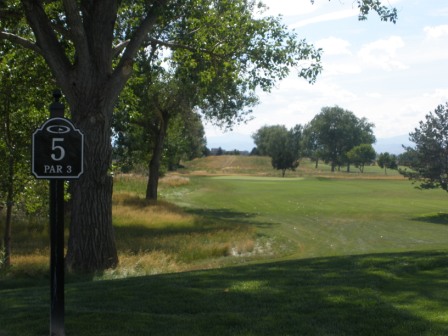 TILLINGHAST APPROACH COURSE AT SHAWNEE - Located at the back end of the practice area at Shawnee Inn & Resort (A.W. Tillinghast's first design), and operated out of Tillie's Pub, this par-3 course features replicas of famous Tillighast designs from San Francisco Golf Club to Baltursrol. Below: The dramatic routing of Shawnee on an island in the middle of the Delaware River.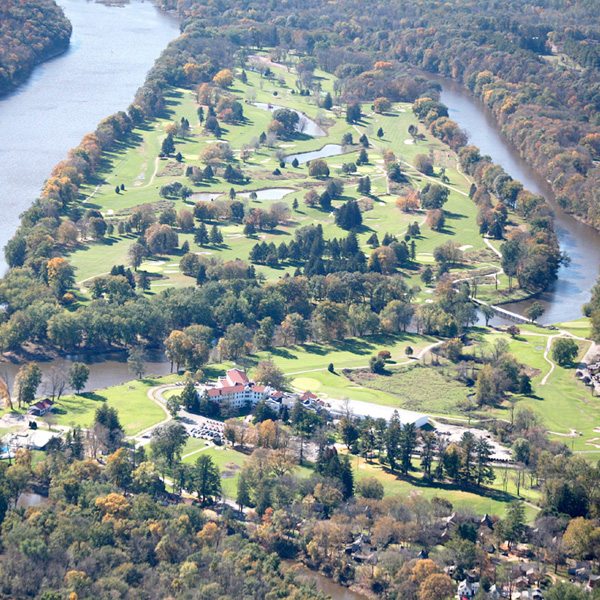 THE COMMONS PUTTING GREEN AT BALLYNEAL - Located smack in the middle of Ballyneal Village, The Commons is a 1 acre putting green than measures 117 yards from one end to another. At night, lighted pins and balls allow members and guests to keep the competitive spirit alive, drink in hand.